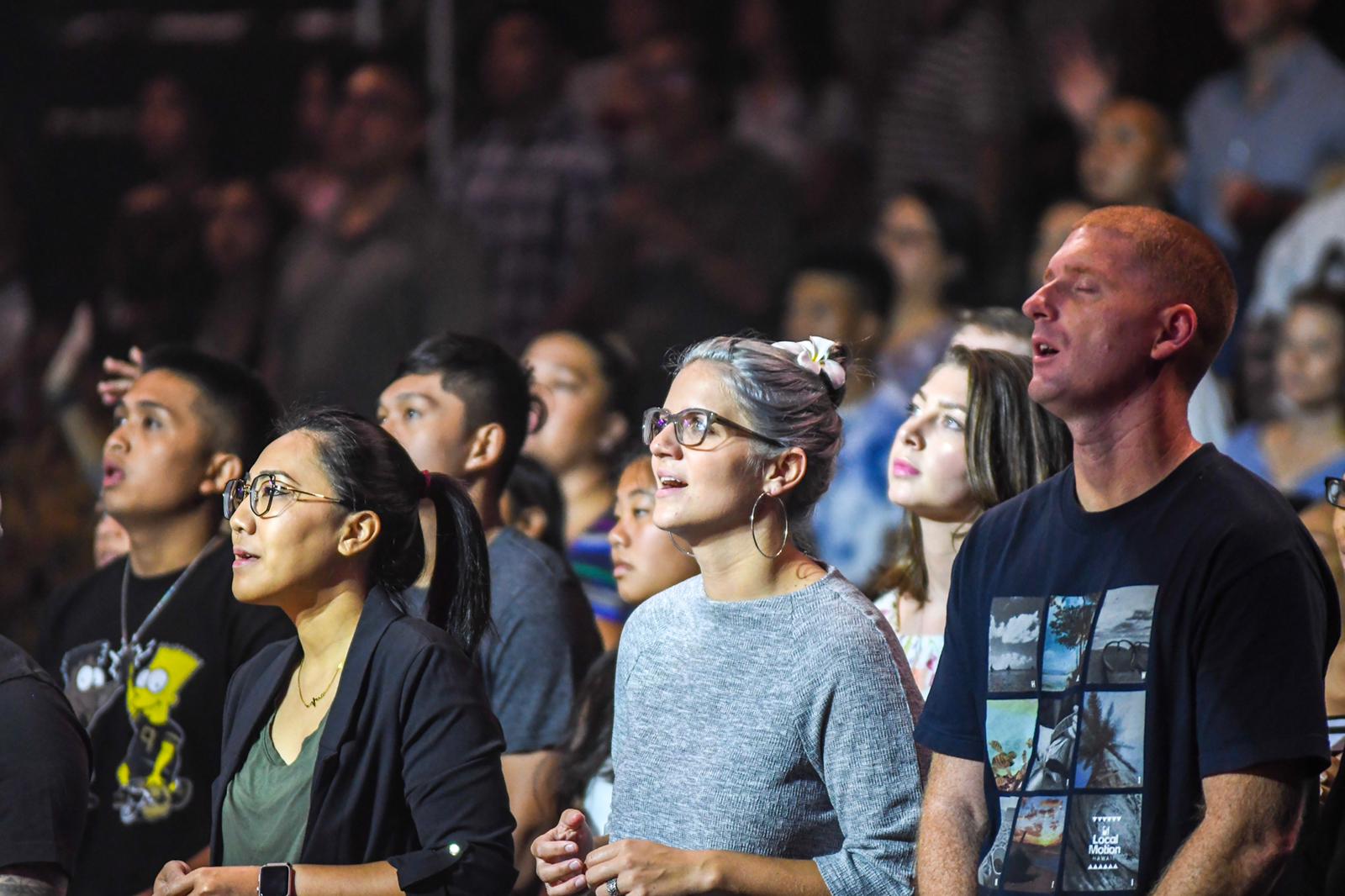 Welcome to Inspire Church!
Here are a few items to help you get settled during your first few visits with us at any Inspire Church location!
SAY HELLO TO YOUR PARKING TEAM!
Volunteers serving with our Parking Ministry will be marked with vests and on hand to assist and direct you to available parking spaces and coordinate shuttle pickups for you to the church! Continuous shuttle service before and after each service will be available for everyone parking in overflow parking areas beyond the church grounds. Check with your location details on where adjacent and nearby parking is available!
WELCOME TO CHURCH!
As you enter, our lobby teams will greet you with a warm smile to welcome you at the entrance!
Available in the Lobby are areas to sit and fellowship with new and old friends alike. You can order from an assortment of beverages in Waikele from our Inspire Cafe, and find complimentary beverages for you to enjoy at all of our locations either before or after service!
Visit our Main Information Kiosks to learn more about services available, register for one of our upcoming events and conferences, and sign up for a Connect Group!
Marked restroom facilities are located in all of our main lobby areas. All of our restroom facilities at all locations, with the exception of Kaimuki High School, are equipped with infant-changing tables. Be sure to utilize the restrooms before settling into the sanctuary so you can take part in the service uninterrupted!
meet our teams!
We have the best team ever! Servants at Inspire Church volunteer their time and service to further the Kingdom of God by doing their part in building the church everyday. They know that they have something to contribute to bring someone closer to finding a life and relationship in Christ!
Whether they are greeting you at the door, taking care of your young ones at Inspire Kids, brewing you a warm beverage before service, playing an instrument on the worship team, or taking photos with our Media Team, our servants are what make Inspire the incredible church family that it is. We are so thankful for them! You can learn more about serving opportunities online or in our Growth Track!
JOIN US IN WORSHIP!
Worship through song and music is an integral part of our services. Arrive early to take part in a time of intimate worship at the beginning of each service as we continue to celebrate God for all that He is doing in our lives and our church, and offer a resounding praise to Him!
Our Sanctuary doors open approximately 15 minutes prior to each service. Our usher teams will be on hand to assist you! We'd like to ask for your help in following guidance from our usher teams to help navigate your way safely though the aisles and seating areas and help create a comfortable environment for everyone in attendance. Feel free to ask them for assistance!
For those hoping to take part in worship but require some hearing protection, earplug dispensers are available for you to utilize at the entrance of our sanctuaries.
FAMILIES WITH INFANTS OR STROLLERS
We love our young ones at Inspire Church! For our parents joining us with strollers or young infants in care, a couple options are available outside of Inspire Kids to help provide a more comfortable environment for you!
IN-SANCTUARY SEATING: Reserved seating areas for families with children are designated at all of our locations. An usher will direct you to these areas for your convenience. These areas are laid out to allow you space to navigate your strollers, offer you ample room to get settled, and provide quick access to the lobby areas.
We'd like to provide an environment for everyone in the sanctuary that allows clear engagement and attention during our messages, so we kindly ask that should your child require additional comfort and care, to please utilize the lobby areas and restroom facilities to do so. Our lobbies are equipped with larger spaces for you and your child, as well as TV's broadcasting the service live so you won't miss a beat!
FAMILY AREA: If you'd like to take advantage of additional space for your child or have more than one little one, our Waikele and Mililani locations offer a family section in a separate room where you and your family can watch live broadcasts of the service while tending to your child's needs freely. Ask one of our lobby teams or information kiosk for more information.
HEAR THE GOOD NEWS!
Along with a time of worship, prepare your heart to receive a life-changing, Bible-based message delivered by our Senior Pastors Mike and Lisa Kai and our Location Pastors and Directors. Learn more about the what the Word of God says about our everyday lives and see how to navigate Scripture and text and apply it to today's world settings. Make sure to bring your Bible and notepad to jot down important verses and study notes to help you in your daily Bible-reading and devotionals for the week ahead.
AFTER SERVICE
Feel free to visit our Lounge Area to meet one of our Connect Team members, speak to a Pastor, and learn more about our church! Be sure to visit us in the Lounge to tell us a little bit about you and how we can help you get connected to an amazing church family and fulfill your God-given potential! Make sure to bring a friend or family member with you next week! We can't wait to see you again!